Enjoy Winter with Your Thatched Gazebo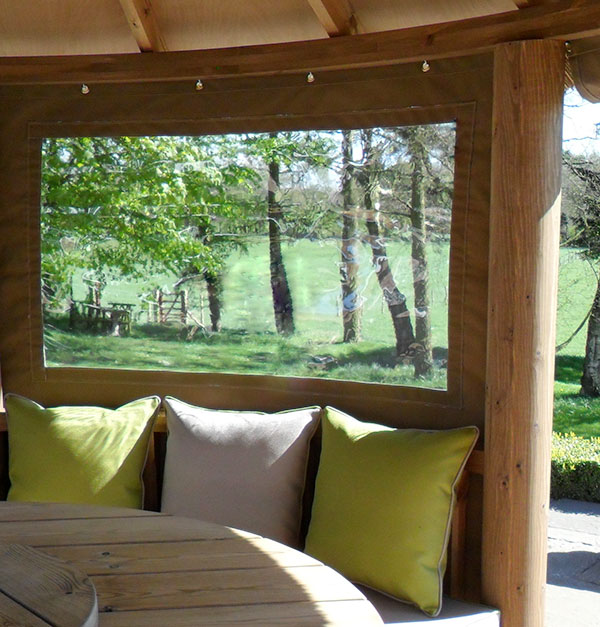 For many of people, the last thing you associate with winter is a nice warm evening in the garden. However, those with a Spindle House thatched gazebo know that there are no limits to how much they can get out of their outdoor space. With optional extras such as heaters and canvas panelling, your hand-crafted thatched gazebo can withstand all elements and be a space for your family and friends to enjoy throughout the year.
Best of British Craftsmanship
Spindle House operates by combining the finest materials and years of experience to create some of the highest quality thatched gazebos on the market, all made by hand. As such, your thatched gazebo will come completely quality assured. This means you can enjoy winter knowing your thatched gazebo is built to last and ready to use.
Range of Sizes
The Spindle House range includes a selection of sizes from two to four metres, able seat 4 to 10 people. Depending on what you require, we can ensure there's a Spindle House for every garden, ready for every occasion. Our four-metre thatched gazebo option is the most distinguished of garden buildings and comes with a 180cm large Rattan lazy susan for convenience. Our full range can be found below:
Likewise, you can view our range of accessories online, which will work to further enhance your Spindle House experience, and prolong their use throughout the year.
Our expectations have been exceeded from customer service through to installation, a sterling job, many thanks.

Mr & Mrs McCreedie
London

Splendid Garden Building

Hello Martin, Thank you for such a splendid garden building, the attention to detail is of the finest.

Excellent in every way, thank you!

Fantastic building! Fantastic company! Fantastic people!

First class job – a real pleasure doing business with you Martin, many thanks.

Dear Martin, thank you for our beautiful Spindle House, it is absolutely fantastic, lovely job – very pleased indeed – hope you have a safe journey back.